Your Comfort is our Business
Propane Safety
Some safety tips for you
Start early with planning for what could be a very cold and snowy Michigan winter! While propane is readily available in Michigan, you still need to ensure you have it available for your needs for cooking, heating, etc.
Propane is highly flammable, and regulations require the filling connection on your tank to be at least ten feet from the external ignition source, the ventilation source for a gas appliance, or any mechanical ventilation source.
If you should smell gas, extinguish any smoking materials or open flames – and do not operate lights, any appliances or phones, as flames or sparks from these sources can cause a fire or even an explosion.
If you should have a leak, report it to Dependable LP Gas right away – we know what to do and will be to your property quickly!
Be sure to comply with our regular maintenance check-ups, which will ensure you do not have leaky tanks or any other problems.
If you smell gas, shut off the gas source immediately!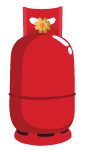 Call Us 1-800-465-9912
You can depend on Dependable to make your propane system safe for you – year in and year out – call today!
Residential Propane
Delivery comes right to your home, no muss, no fuss for you, our valued customer.  Your choices drive our timely services.
Pre-Buy Program
Guarantees a certain price per gallon on your season's fuel.  You pay for fuel now and we deliver as needed on a Keep Fill basis between sign-up and April 30th.
Commercial / Agricultural Propane
Whether your need is to power up a forklift, heat a business establishment, or perhaps provide atemporary heat source for your construction site, Dependable LP Gas Co. is your best answer.
Price Cap Program
Guarantees a certain price per gallon, on a Keep Fill basis between sign up and April 30th.