Your Comfort is our Business
West Michigan Propane Gas Company
LP Gas in West Michigan
It's about the product and the service in providing the West Michigan area with premium propane. The family owned and operated Dependable LP Gas Co. lives up to its name, providing residential and commercial/agricultural propane to an approximately 40-mile wide radius of satisfied West Michigan customers. This delivery radius includes Kent, Barry, Montcalm, Ionia, Newaygo, and Allegan counties. We make sure we keep your home warm in the winter, your morning shower good and hot, and also provide for the unique propane needs a farm or business may have. You have only to call us.
We can do it your way. We will set you up with automatic refill if that is your wish, or keep your tanks filled on a "will call" basis – you call us, we come. We can even set up a budget plan for you for your convenience. You will find our rates competitive and our service prompt. We won't charge you for the lease of the tanks and will maintain them for you as well, ensuring that you have no leaks or blockages in your tanks. We do not charge installation fees either. We will guarantee our worry-free equipment, installation, and service, and do it with a smile. Your trust matters, and we will earn it.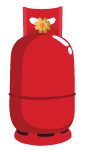 Call Us 1-800-465-9912
Our 24/7 emergency service will see to that, or for any problem you may encounter. Contact us today for your propane needs, and we'll get you started! 1-800-465-9912
Residential Propane
Delivery comes right to your home, no muss, no fuss for you, our valued customer.  Your choices drive our timely services.
Pre-Buy Program
Guarantees a certain price per gallon on your season's fuel.  You pay for fuel now and we deliver as needed on a Keep Fill basis between sign-up and April 30th.
Commercial / Agricultural Propane
Whether your need is to power up a forklift, heat a business establishment, or perhaps provide atemporary heat source for your construction site, Dependable LP Gas Co. is your best answer.
Price Cap Program
Guarantees a certain price per gallon, on a Keep Fill basis between sign up and April 30th.